Clown Supplies
A well dressed clown needs costumes and supplies that will last them for many years. It is important to buy quality products designed for the professional clown. Most items available around Halloween at the local costume store are only good for one day. For better value, shop at a clown convention or buy online from one of the following vendors.
Clown Costumes
---
Clown Shoes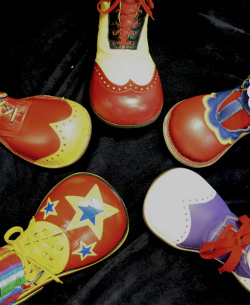 ---
Clown Wigs
---
Clown Noses
---
Clown Supplies
---
Face Painting Supplies
---
Balloon Supplies
---
Other Places Clowns Shop
Ask a clown where he or she shops and you will likely hear that they go to thrift, craft, fabric, and party supply stores.