Balloon Twisting
Balloon twisting is a popular skill for clowns. It takes some time and effort to learn how to twist balloons, but it is a great crowd pleaser. Balloons are great at birthday parties, restaurants, company picnics, community festivals, and other events with kids.
Balloon Manufacturers
There are two main manufacturers of balloon for twisting, Qualatex and Betallic.
---
Organizations and Conventions
There are a few organizations for balloon twisters that sponsor annual conferences and conventions.
---
Regional and Local Guilds, Groups, and Jams
There are many small local groups of balloon twisters who meet for jams. Jams are great places to learn new balloon designs, practice, and meet other balloon twisters. Unfortunately, most are loosely organized. Here are a few of the groups with websites.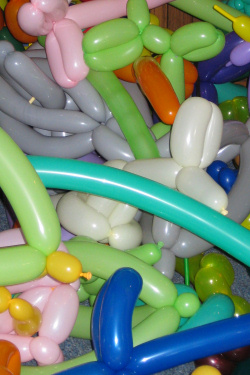 ---
Balloon Vendors and Supplies
---
Balloon Twisting Resources